APG 140 – Meet-ups, Flight Control Problems, Emergencies
---
---
Podcast: Play in new window | Download
Would you hesitate to declare an emergency? We discuss an article about pilot reluctance to declare an emergency when it is the appropriate thing to do.
A sick passenger on a flight from Dallas/Fort Worth to Chicago was told by flight attendants worried about Ebola that she would have to stay in the lavatory for the duration of the flight, according to a passenger witness. Is this a case of hysteria and overreaction, or prudent action?
Here's an interesting one: A Skywest CRJ2 experienced flight control problems while on approach to Chicago's O'Haire International last week. They safely landed the jet at DuPage Airport southwest of KORD.
Jane's All the World's Aircraft
The Airplane Shop
FEEDBACK
Bruce – Flight Data Monitor and Alerting System?
Danish – Airline Pilot at Church, Poor Quality of ATC communications on LiveATC
Janel – Weird Flight Path
Jan from Switzerland – BA London-City service to New York
Nick Wilson – Main Landing Gear Bogies
Smoothest Landing? US Airways Airbus A330
Rick – A little feedback on autopilots and rudder
Nick – Why no Air Conditioning?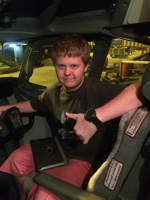 FO Jeff – Journalist with a clue.
Micah – Smoke Hoods, Flight Deck Design, and Amazing World Of Aviation Series
Cory Huffer – Chemsuits for Pilots flying Ebola Patients?
Janel – The Lazy Journalists Guide to Airplane Stories
Kib – Nightmare at 20,000 Feet
William from KDOV – Dassault Falcon EASy II
Nick – Indonesian Extreme Landings
Brendan in Chicago – Regarding Air Force One
Air Force One: The Planes and the Presidents
Darren – EasyJet captain asks passengers to volunteer to deplane
Ken – Crew rest facilities
Travis – USA Trip.m4a
Christine – Aviation Humor
Nick – Just Started Flight Training
VIDEO


Audible.com Trial Membership Offer – Get your free audio book today!
Give me your review in iTunes!
I'm "airlinepilotguy" on Facebook, and "airlinepilotguy" on Twitter.
feedback@airlinepilotguy.com (304) 99-PILOT (304) 997-4568 airlinepilotguy.com
ATC audio from http://LiveATC.net
Intro/Outro music by Tim Brown, BrownHouseMedia, iStockphoto.com
Copyright © AirlinePilotGuy 2014, All Rights Reserved
---
---