APG 104 – Marshalling, Powerbacks
---
---
Well, this one's a crazy one. I got all caught up in the winter storm which swept through the Southeastern US up to New England, and tried to record a show in the midst of it.
A 45-year-old Ukrainian man attempted to highjack a Pegasus Airlines flight, but ended up in the original destination city… although he wasn't counting on jailhouse accommodations. 2,000 very unhappy travelers in China started a riot at a Henan Province airport. Seems customer service was a little lacking. The FBI announced a new crackdown on pointing lasers at aircraft, including a provision to reward those who come forward with information about individuals who engage in this dangerous activity. The FAA released the final rule Prohibition on Personal Use of Electronic Devices on the Flight Deck, effective in 60 days.
Feedback in this episode:
Josh Haynes – Seattle Seahawks 747-8 Freighter
Kevin: Does the flight deck have separate temperature control?
Greg from Chicago – Reverse Thrust, Pushback without tug?
Mike Karrels' My Fifty Percent blog
Hideous FO Jake – PRIA and PEDs during CAT IIIs
Johan from Sweden – More videos showing takeoffs and landings on highways
http://www.youtube.com/watch?v=pLPrnc8GNPU
http://www.youtube.com/watch?v=PoQtnugT6A4

Mark – Helicopters, 4 year degrees
Ryan – Interviews
Dave – Marshalling
Paul – Bidding for Trips
Samuel – Airline-Pilot Shortage
Anders Engström – feedback
Alex – Coffee Fund Stipulation
Carl – Speeding Ticket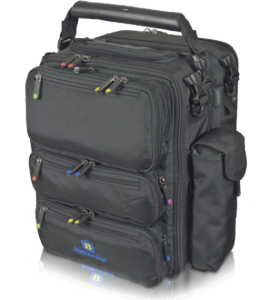 Oh, and don't forget to check out Brightline Bags, the place to get a flight gear bag like mine. And for a limited time, use the Discount Code airlinepilotguy to receive a ten percent discount.
Please check out my Patreon Page if you get a chance. Remember, my "daily" audio message called "Captain's Log" is only available to my Patrons. I hope that some of you will find this service a convenient way to contribute to my coffee fund!
VIDEO


Audible.com Trial Membership Offer – Get your free audio book today!
Give me your review in iTunes!
I'm "airlinepilotguy" on Facebook, and "airlinepilotguy" on Twitter.
feedback@airlinepilotguy.com
(304) 99-PILOT
(304) 997-4568
ATC audio from http://LiveATC.net
Intro/Outro music by Tim Brown, BrownHouseMedia, iStockphoto.com
Copyright © AirlinePilotGuy 2013, All Rights Reserved
---
---